Uma grande promoção da Sony PS Store foi lançada para oferecer aos usuários do PlayStation 4 super descontos nos jogos. As promoções estão em vigor desde 12h de hoje, dia 01 de abril, e serão válidas até o fim do mês, tendo jogos como GTA 5, FIFA 2020 e outros.
Os descontos serão de 90% para The Golf Club 2 e Grand Ages e 85% para Dragon Ball Xenoverse 2 e Project Cars 2 Deluxe Edition. Outros bons descontos de 80% vão valer para o game Metal Gear Solid V: The Phantom Pain, entre outros e 70% a menos no valor para The Witcher 3: Wild Hunt.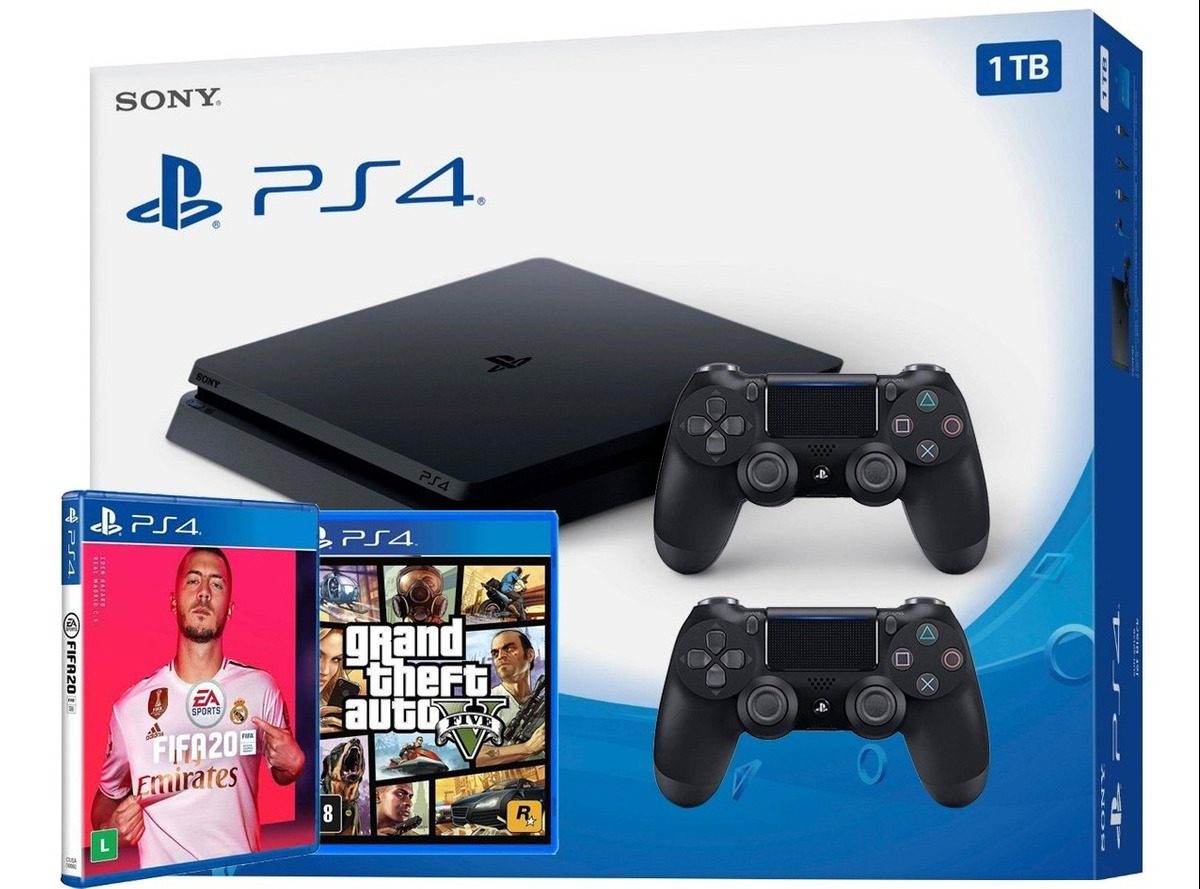 As promoções ofertadas pela Sony vão durar até o dia 28 de abril, ao 12h. Confira abaixo quais serão os jogos e quais os descontos que estarão disponíveis para compra.
| | |
| --- | --- |
| Jogo | Desconto |
| A Fisherman's Tale | 40% |
| A Plague Tale: Innocence | 60% |
| A Way Out | 50% |
| Anthem Standard Edition | 70% |
| Anthem: Legion Of Dawn Edition | 70% |
| AO International Tennis | 40% |
| AO Tennis 2 | 40% |
| Arizona Sunshine | 75% |
| Assassin's Creed III: Remastered | 60% |
| Assassin's Creed Triple Pack: Black Flag, Unity, Syndicate | 67% |
| Assassin's Creed Odyssey Ultimate Edition | 75% |
| Batman: Arkham Collection | 70% |
| Bioshock: The Collection | 80% |
| Blazblue Cross Tag Battle Special Edition | 33% |
| Borderlands 3 | 50% |
| Borderlands: Game Of The Year Edition | 67% |
| Borderlands: The Handsome Collection | 75% |
| Bully | 40% |
| Call Of Duty: Black Ops 4 | 67% |
| Call Of Duty: Modern Warfare – Battle Pass Edition | 20% |
| Citadel: Forged With Fire | 50% |
| Code Vein | 40% |
| Code Vein Deluxe Edition | 40% |
| Control Digital Deluxe Edition | 40% |
| Crash Team Racing Nitro-Fueled | 40% |
| Crash Team Racing Nitro-Fueled – Nitros Oxide Edition | 40% |
| Creed: Rise To Glory | 70% |
| Dark Souls III | 75% |
| Days Gone | 50% |
| Days Gone Digital Deluxe Edition | 50% |
| Dayz | 40% |
| Dead By Daylight: Special Edition | 50% |
| Dead Rising 2 | 75% |
| Death Stranding | 50% |
| Death Stranding Digital Deluxe Edition | 50% |
| Devil May Cry 5 (With Red Orbs) | 51% |
| Diablo III: Eternal Collection | 67% |
| Doom | 60% |
| Doom (1993) | 40% |
| Doom 3 | 30% |
| Doom II (Classic) | 40% |
| Dragon Ball Fighterz | 75% |
| Dragon Ball Fighterz – Fighterz Edition | 75% |
| Dragon Ball Xenoverse 2 | 85% |
| Dragon Ball Z: Kakarot | 33% |
| Dragon Ball Z: Kakarot Deluxe Edition | 33% |
| Dragon Ball Z: Kakarot Ultimate Edition | 33% |
| Dungeons 3 | 83% |
| EA Sports Fifa 20 | 60% |
| EA Sports Fifa 20 Champions Edition | 60% |
| EA Sports Fifa 20 Ultimate Edition | 60% |
| EA Sports UFC 3 | 30% |
| Eagle Flight | 70% |
| Efootball PES 2020 Legend Edition | 65% |
| Efootball PES 2020 Standard Edition | 67% |
| Fallout 4: Game Of The Year Edition | 60% |
| Far Cry New Dawn | 60% |
| Far Cry Primal – Digital Apex Edition | 70% |
| Final Fantasy XIV Online Complete Edition | 40% |
| God Eater 3 | 60% |
| God Of War | 25% |
| God Of War Digital Deluxe Edition | 34% |
| God Of War III Remastered | 25% |
| Gran Turismo Spec II | 25% |
| Grand Ages: Medieval | 90% |
| Grand Theft Auto V: Premium Online Edition | 50% |
| Grand Theft Auto: San Andreas | 33% |
| Grand Theft Auto: The Trilogy | 50% |
| Grand Theft Auto: Vice City | 40% |
| Grand Theft Auto III | 40% |
| Greedfall | 50% |
| Hasbro Family Fun Pack Super Edition | 75% |
| Hitman HD Enhanced Collection | 70% |
| Job Simulator | 35% |
| Journey To The Savage Planet | 40% |
| Jump Force | 65% |
| Jump Force – Deluxe Edition | 65% |
| Jump Force – Ultimate Edition | 65% |
| Just Cause 4 – Complete Edition | 70% |
| Just Cause 4: Reloaded | 65% |
| Just Dance 2020 | 50% |
| Kingdom Hearts All-In-One Package | 70% |
| Kingdom Hearts HD 1.5 +2.5 Remix | 60% |
| Kingdom Hearts III | 70% |
| L.A. Noire | 50% |
| Layers Of Fear 2 | 50% |
| Lego DC Super-Villains Deluxe Edition | 50% |
| Lego Harry Potter Collection | 70% |
| Lego Jurassic World | 70% |
| Lego Star Wars: The Force Awakens | 60% |
| Lego Star Wars: The Force Awakens Deluxe Edition | 60% |
| Mafia III | 75% |
| Manhunt | 40% |
| Marvel Vs. Capcom: Infinite – Deluxe Edition | 70% |
| Marvel Vs. Capcom: Infinite – Standard Edition | 75% |
| Max Payne | 40% |
| Metal Gear Solid V: The Definitive Experience | 70% |
| Metal Gear Solid V: The Phantom Pain | 80% |
| Middle-Earth: Shadow Of War | 60% |
| Middle-Earth: Shadow Of War Definitive Edition | 60% |
| Monopoly Family Fun Pack | 70% |
| Monopoly Plus | 70% |
| Monster Energy Supercross – The Official Videogame 3 | 30% |
| Monster Energy Supercross 3 – Special Edition | 30% |
| Mortal Kombat 11 | 60% |
| Mortal Kombat 11 PE + Injustice 2 LE – Premier Fighter | 70% |
| Mortal Kombat 11 Premium Edition | 60% |
| Naruto Shippuden: Ultimate Ninja Storm Legacy | 75% |
| Naruto Shippuden: Ultimate Ninja Storm Trilogy | 50% |
| Naruto Shippuden: Ultimate Ninja Storm 4 Road To Boruto | 75% |
| Naruto To Boruto: Shinobi Striker | 85% |
| Naruto To Boruto: Shinobi Striker Deluxe Edition | 77% |
| NBA 2K Playgrounds 2 | 75% |
| NBA 2K20 | 67% |
| NBA 2K20 Digital Deluxe | 67% |
| NBA 2K20 Legend Edition | 67% |
| Need For Speed Heat | 50% |
| Need For Speed Heat Deluxe Edition | 50% |
| NHL 20 | 60% |
| NHL 20 Deluxe Edition | 60% |
| NHL 20 Ultimate Edition | 60% |
| Ni No Kuni II: Revenant Kingdom – Deluxe Edition | 66% |
| No Man's Sky | 55% |
| Paladins Champions Pack | 35% |
| Plants Vs. Zombies: Battle For Neighborville | 50% |
| Power Rangers: Battle For The Grid | 40% |
| Power Rangers: Battle For The Grid – Collector's Edition | 40% |
| Prison Boss VR | 35% |
| Project Cars 2 | 85% |
| Project Cars 2 Deluxe Edition | 85% |
| Prototype Biohazard Bundle | 75% |
| Prototype 2 | 80% |
| Railway Empire | 70% |
| Raw Data | 70% |
| Red Dead Redemption 2: Ultimate Edition | 60% |
| Red Dead Revolver | 40% |
| Rick And Morty: Virtual Rick-Ality | 60% |
| Ride 3 | 70% |
| Rocket League | 50% |
| Rugby 20 | 40% |
| Shadow Of The Tomb Raider Definitive Edition | 67% |
| Sid Meier's Civilization VI | 35% |
| Soulcalibur VI | 75% |
| Soulcalibur VI Deluxe Edition | 70% |
| Star Wars Jedi: Fallen Order | 40% |
| Star Wars Jedi: Fallen Order Deluxe Edition | 40% |
| Sudden Strike 4 | 67% |
| Sudden Strike 4: Complete Collection | 74% |
| Super Bomberman R | 75% |
| Sword Art Online: Fatal Bullet | 75% |
| Tales Of Vesperia: Definitive Edition | 60% |
| Tekken 7 | 80% |
| Tekken 7 – Ultimate Edition | 75% |
| Tennis World Tour | 80% |
| Tennis World Tour – Legends Edition | 73% |
| Tennis World Tour: Roland-Garros Edition | 60% |
| Terraria: PS4 Edition | 70% |
| Tetris Effect | 50% |
| The Crew 2 | 70% |
| The Crew 2 Deluxe Edition | 70% |
| The Crew 2 Gold Edition | 70% |
| The Dark Pictures Anthology: Man Of Medan | 50% |
| The Elder Scrolls Online: Elsweyr (2019) | 67% |
| The Elder Scrolls Online: Elsweyr Upgrade | 67% |
| The Elder Scrolls Online: Elsweyr Collector's Edition (2019) | 67% |
| The Elder Scrolls V: Skyrim Special Edition | 65% |
| The Golf Club 2 | 90% |
| The Last Of Us Remastered | 25% |
| The Lego Movie 2 Videogame | 60% |
| The Outer Worlds | 33% |
| The Surge 2 | 50% |
| The Warriors | 40% |
| The Witcher 3: Wild Hunt – Complete Edition | 70% |
| Tokyo Ghoul:Re [Call To Exist] | 50% |
| Tom Clancy's Ghost Recon Breakpoint Ultimate Edition | 67% |
| Tom Clancy's Ghost Recon Wildlands Year 2 Gold Edition | 60% |
| Trials Rising | 70% |
| Trials Rising Gold Edition | 70% |
| Trine 4: The Nightmare Prince | 50% |
| Trivial Pursuit Live! | 60% |
| Trover Saves The Universe | 30% |
| Two Point Hospital | 25% |
| Uncharted: The Lost Legacy | 25% |
| Uno | 50% |
| Until Dawn | 50% |
| Vacation Simulator | 20% |
| Vampyr | 75% |
| Warhammer Chaosbane | 60% |
| Warhammer: Vermintide 2 | 50% |
| Warhammer: Vermintide 2 – Ultimate Edition Bundle | 55% |
| Watch Dogs 2 – Gold Edition | 75% |
| WRC 8 FIA World Rally Championship | 40% |
| Wreckfest | 30% |
| Wreckfest Deluxe Edition | 35% |
| WWE 2K20 | 67% |
| Yakuza 6: The Song Of Life | 25% |